Post-surgery and post-injury limitations can sometimes be overwhelming. At Physical Therapy Solutions, we specialize in optimal healing and return to maximum function as soon as possible, utilizing the most fast-acting treatment techniques and state-of-the-art treatment tools. 
Our orthopedic physical therapists utilize instrument-assisted soft tissue mobilization; a skilled treatment technique proven to enhance healing time, deliver oxygen-rich blood to damaged tissues, restore flexibility and help the body unlock its overall maximum healing potential.
What is Instrument-Assisted Soft Tissue Mobilization?
This unique treatment technique, not offered by most clinics, essentially works by breaking up "scar tissue" around an injured area so that blood flow can return to normal while flexibility and strength improve, enabling more rapid healing. Arthrofibrosis, a common post-surgical side effect, occurs when an excessive amount of type III collagen fibers are scattered in a disorganized way around an injured area. If left alone, these tissues eventually lock up to form an excessive buildup of scar tissue — restrictive tissues that limit movement, decrease flexibility, lessen strength and decrease blood flow.
What Makes Instrument-Assisted Mobilization More Effective Than Other Techniques?
Cross-friction massage using the hands is the most common method used by other PT clinics to break down scar tissue and restore normal tissue mobility.  However, over time, a therapist's hands and fingers can eventually break down and be rendered less effective.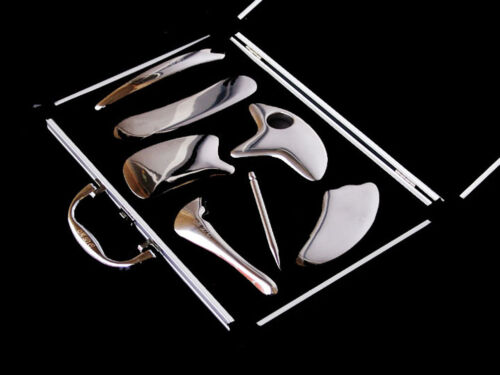 The special instruments used at PT Solutions, the MiyoDac 7-piece set, facilitate consistent and effective scar tissue break-down, without taking a toll on the therapists' hands.  Each piece has beveled edges so as not to cause damage to skin integrity. Both concave and convex sides enable surface-level and deep tissue manipulation.
"These tools have played an instrumental role in my ability to successfully help many patients fully recover from an array of injuries and post- surgical challenges.   I am able to provide effective manual intervention in less time and with less stress to my own hands," says Jason Hussein, PT, DPT.
Dr. Hussein shares that in as little as 3-4 minutes per session, he is able to accelerate healing time with every patient.  He is quick to share, however, that mild and temporary soreness and bruising may occur.   The overall feedback he receives from patients is improved mobility after 24-48 hours, enabling them to return to their daily activities sooner than later.
To discover how these manual tools can help you recover from an injury, call today to schedule a free consultation at 800-507-2634.